Character: Kiyotaka Ishimaru
Fandom: Dangan Ronpa
Reason for Being Hated: Too emotional/whiny, cries way too much, being useless, annoying, gets way too much love in the fandom for having a tragic backstory, gets in the way of ships/has too many ships, (namely Mondo), [SPOILER] many people still debate whether or not he sexually abused Celes while under his alternate persona, Ishida [SPOILER]. 
So, uh, I hope this doesn't get too long.
Character: Nepeta Leijon
Fandom: Homestuck
Reason for Being Hated: "Creepy," no personality other than "Kitty shipper girl," gets in the way of Karkat/Terezi, Karkat/John, or Karkat/Anyone else.
I love Nepeta so much and it breaks my heart that she's hated! Time for a defence!!
Creepy
Well that is subject to opinion. I can't really say anything about that. Is it because she ships her friends? She only does that because she wants them to be happy (Well in the flushed and pale quadrants XD Black and ashen isn't about happiness at all! XD)
No personality other than "Kitty shipper girl,"
Actually that is what the fans think of her. Karkat even pointed out that there is more to her than "Kitty shipper girl" I think some people need to replay Kanaya: Return to the core hmm? She is sweet and friendly, easy to get along with and kills beasts EVERY DAY. She's a badass and no one realises! (Yeah she couldn't stop Gamzee but no one can and that was the only fight we saw… And it wasn't even on screen…)

Gets in the way of Karkat/Terezi, Karkat/John, or Karkat/Anyone else.
THE SHIP IS NOT THE CHARACTER.
You can't hate someone because "DEY GET IN DEH WAII OV MY KAWAII OTP!!!11!!one!!1!
While I loved DreamWorks' adaptation of Mr. Peabody and Sherman (it's certainly better than most other cartoon adaptation movies), I'm actually not surprised Penny was submitted to this blog. Original characters added to an adaptation often attract haters. Although, I'm am surprised at how much hatred she's attracted. She's only a kid and I feel like someone needs to speak up for her, so here I go…
(NOTE: There are obviously going to be spoilers for anyone who hasn't seen the film)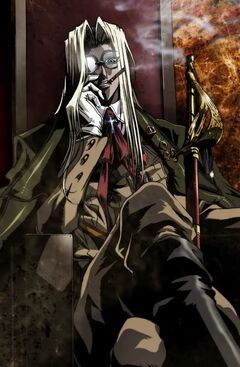 In response to the submitter: I'm right there with you. Integra might not be my favourite character in Hellsing Ultimate, but she's still a character that I deeply respect for a lot of reasons. Let us begin, shall we?

Not as pretty as Seras: Because as we all know, visual appeal is the most important aspect of a character like Integra. But seriously, she has been brought up to be regal and respected, not just to look pretty. Judging on looks alone is narrow-minded and in some cases misogynistic. Hell, even Seras is a force to reckoned with regardless of her looks, but I digress.
Bossy/Bitch: There's a good reason for her to possess such an attitude, she gets shit done. Not necessarily in field work, that's why we have Alucard, Seras, Walter and the Wild Geese, but she regulates communications, sorts out complications and issues with her allies and associates and she does this with the same enthusiasm as Alucard does when he goes up against a formidable opponent. If she were submissive and didn't take a chance, the Hellsing organization wouldn't have its reputation and there would be no plot.
Stands in the way of Alucard&Seras pairing: This reason is just doomed to appear on every submission here, isn't it? Anyway first of all, I'm surprised Pip Bernadotte isn't the main rival of that pairing and second, she and Alucard don't really have all that much romantic chemistry. Oh sure, they have a relationship, but it's more of a master/servant relationship, like how his relationship with Seras is a master/student relationship. Hell, Alucard has more romantic chemistry with the Queen of England! (Abridged series canon not withstanding)

Ending point: Don't judge a character on what ships they get in the way of without even trying to.
Dresses like a guy: When you're in power, I don't think a suit is going to make your foes think differently of you. Integra rocks all of her outfits in the series, if anything they add to her baddassery.
Useless: Really now? Let's list of just a few of the things she did in Hellsing Ultimate (SPOILERS):
Brought Alucard back to life (non-intentionally, but it was because of her virgin blood that we have the series in the first place)
Took on her father's Hellsing organization and built its reputation to what it is to this day, commanding what is said to be one of the most vampires ever.
Moved on from her loyal guards being killed, brought back as ghouls and killed again and recruited the Wild Geese which would lead to Seras meeting Pip, forming a bond with him and gaining the motivation to become a true vampire, kill Zorin Blitz and save the Hellsing manor.
Oh yeah, and she kind of, sort of, you know, ENDED A WAR. Perhaps not by supernatural powers or firearms, but she took down the Major alongside Seras, lost her eye, and continued to lead the Hellsing organization for over 30 years.
Miss Hellsing's not sounding so useless now, is she?
("…Did you say something?")
(Yes… This dandelion.)
Ya know, when I saw Komaeda on the list of future controversial characters, I was honestly expecting dumb (but unsurprising) reasons like "he's crazy", "he's creepy", or "he gets in the way of HinaNami"… Ya know, typical stuff. Unfair stuff that really isn't the character's fault given his condition and the situation he's in… (Let's not even talk about that last reason because that's just a crappy reason that characters get hated on because oTHER bONDS BESIDES THE MY SHIP?! OH THE HORROR)
These reasons utterly ASTOUND me by how WRONG they are. Let's go through them carefully. See if you can keep up.
Oh, yeah, SDR2 spoilers because, ya know. We're talking about one of the most important aspects of that game.
I've been waiting for this since I finished that case, fell in love with her, and looked her up on here to find that people saw her as a "problem character".
So let's talk about this, shall we?
The main—and only—argument against Robin is that she seems to be making fun of trans people/characters. Um, did we even play the same case? The basic story is: Athena is trying to get Juniper more time before a verdict is handed down, so she pursues any leads. When she finds that Robin has been lying, that's the road she goes down. That road leads to Robin admitting "he likes girl's clothes" and that "he'll never be as pretty as Juniper". Going further down this road eventually leads to Robin's chest brace coming off, and a huge revelation that Robin is actually a girl.
Now, one of the first arguments I saw was that Athena "outted" Robin on her true gender. And while yes, she did expose that Robin was in fact female, Robin was actually grateful of this. It's stated in-game that her parents forced, forced, Robin to pretend like a boy. The reason? Maybe they wanted a son. Maybe they only thought males could be prosecutors (even with Franziska, but whatever). We may never know the reason, but the reason itself isn't important. Robin NEVER wanted to be a boy—or a prosecutor for that matter—but she did it because of her parents. She was born a girl, was forced/raised to act like a boy, but deep down still wanted to be a girl.
Another argument is of her stereotypical mood swings of both genders. When people first thought she was a boy, no one batted an eyelash of how stereotypical she acted. Shouting, constantly showing off her "manliness", things like that. But when she embraces being a girl for the first time in who knows how long, its wrong that she acts like a stereotypical female: Twirling, flirting, liking fashion, etc. Now, I read a theory on this, and I am inclined to agree: She acts that way on both sides because that's how she feels like boys/girls act, even if it's not true. Remember, she was trying to pretend that she was a boy, so in her mind, she had to do all the things boys liked. When she could finally embrace herself as a girl, she went to act like a stereotypical girl in her mind. Why? Maybe because she was raised as a boy. While yes, she always felt like a girl, she never knew what it was really like to be a girl. Or, hell, for all we know maybe she's naturally like that? Either way, powerful moodswings happen both ways because that's how she believes each gender should act, even though we see it as overblown.
How about we stop seeing things that obviously aren't there? If you even played the game, and read everything, it was stated in plain white text what her situation was. Robin Newman is a wonderful character, whether in her male persona, or in her female true self. So let's stop hating on her, yeah?
I didn't really care about Kristoff when I saw the movie, but I think the reasons why people hate him are silly. Here's why:
Looks like Flynn Rider: Uh, what? Kristoff has a round face, longer hair, higher eyebrows, no facial hair, wider eyes…I could go on. They look nothing alike. Even their hair is different. Kristoff has lighter blond hair while Flynn has a sandier color.
Fat: OK, to start off, this is an incredibly privileged statement to make. Kristoff is involved in heavy manual labor because, well, it's his job. He might have a bit of winter chub but it goes without saying why that's helpful when you work regularly in a cold environment. It's most definitely mostly muscle.
To continue, let's look at some basic sociology. People who earn less can't afford to eat as well as people who earn more. You are comparing Kristoff to Anna, Elsa and Hans, who are quite literally royalty. Kristoff doesn't have half the privilege they have. And on the topic of exercise, well, I just said he's involved in heavy manual labor. It isn't like jogging on a race track, where you can stop whenever you want. He has no control over how much exercise he can do, not when his livelihood is at stake.
Love interest for Anna: I'm not the first to admit that I'd like to see Anna without a love interest, but I'd say this is more about the story than any fault of his character. I guess it's also because Anna needs help from a man, but it'd be really improbable for a sheltered princess (which Anna is) to go it alone in the wilderness and not die, let alone be successful in her goal. It's OK to depend on people who are more experienced than you.
Excuse me, but wasn't there ANOTHER Courtney submission someone submitted a year or so back on this blog? Here: http:// fyeahcontroversialcharacters. tumblr.com/ post/ 22554175563/ character-courtney-fandom-total-drama-series
Oops, I guess there was! I tried looking for it but couldn't find it.