It doesn't matter how well-written, developed, and deep a character is, there will always be a group of people in the fandom that will reduce that character to 2 or 3 traits and then misinterpret everything they do based on those 2 or 3 traits which may or may not even be accurate to that character.
(via blodynbryd)
Character: Blaziken
Fandom: Pokemon
When I saw Blaziken on here, I knew I had to defend it, mainly because it got a hatedom pretty fast for rather stupid reasons. I'll be refuting each of them here.
"Broken"
This I will concede on: Blaziken is a very powerful Pokemon, especially with Speed Boost. But tiers in Pokemon exist for a reason other than "who's best" - they severe as banlists for lower tiers. In most competitive communities Blaziken is banned to the Ubers tier, where most people play the tiers below Ubers, and thus you won't have to deal with it at all if you play said tiers. As for Ubers there are plenty of other "broken" mons you'll face there so why pick on Blaziken? Same deal with Random Matchup. And if you play with freinds, just ask them to not use Blaziken. It's nothing to worry about.
Didn't Need a Mega Evolution
Really, there are plenty of mons that didn't "need" one, (Garchomp, arguably Lucario) so why pick on Blaziken? And Mega Evolution is totally optional - if you want to use a perfectly normal Blaziken, go for it! Facing a Mega Blaziken was addressed above. 
Started A Trend Of Fire/Fighting Starters
Now, I'm pretty sure this wasn't Blaziken's fault, at least not directly. If it WAS influenced by Blaziken's popularity, that's more a problem on Gamefreak's end for misinterpreting it as "we want more of the same" and they at least eventually caught on. 
So in the end Blaziken is nothing to get worked up over. And c'mon, it's a badass firey kung-fu chicken of doom. What's not to love?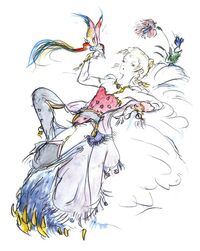 Krile is one of my favorite FFV characters along with Faris and Gilgamesh. So when I saw that she had a post here, I was not a happy camper. Let's go over the points, shall we?
Including Ex-Death? Yeeeeah, no. And I don't remember the game gushing about her every appearance, so it feels like a "running through the Mary-Sue checklist" thing to me.
Uhh, no she doesn't. Remember the very beginning of the game where the siren tried to lure the party with illusions of the people they most cared about? We see an image of Krile, and because Galuf doesn't remember, he's not brainwashed by the siren. Krile later showed up a few more times in the game, like when she saved your party from a possessed King Tycoon. That would kiiiiiiiiiiiinda be important to mention.
Aka Replacement Scrappy. It's not her fault Ex-Death killed her grandfather. (At least Galuf had the most Awesome Sacrifice)
can talk to animals and ghosts (it's never explained why)
An NPC in Bal said her ability started to appear after her parents went missing in desert, while an Ultimania explains that she has mild telepathy, which allows her to talk to animals and ghosts in the first place (and why Ghido calls out to her rather than any old person in Bal) Even if it's left vague in the game itself, weirder things have happened in the FFV-verse, so Krile's abilities really aren't too out of the norm.
implied to be stronger than other party members despite being 14
Bull. According to the character base attributes, Krile has the best Agility, but the other characters are just as strong as she is. (Bartz is best with Strength, Lenna with Magic, Galuf with Stamina, and Faris is the Jack of All Trades) How strong your party members are depend on what kind of jobs you train them in.
steals airtime from other characters (true ending ignores everyone else and is all about her)
Again, that's bull. The true ending is about everyone, and Krile reminiscing about Galuf was a way to include him on a personal level, since she was his granddaughter and all.
Well, that's your opinion. It's different for everyone, so I can't help you there. *shrug* But I was really impressed with her maturity after losing Galuf. It's obviously something that hurts her, but she manages to carry on all the same. Not bad for a teenager.
Young!Rydia, Palom & Porom (FFIV) and the Onion Knights (FFIII) have the same kind of sprite, yet I don't hear you complaining about them.

In short, Krile is awesome, and I don't appreciate you picking on her. >(
Fandom: Star Wars: Knights of the Old Republic (Game)
Before I begin, I have two notes. 
One: If you have not played and completed this game, please know that there will be huge spoilers to follow. 
Two: I actually agree with most of the points made by the hatedom; I am not here to say Bastila does not have these flaws, but to explain where these flaws come from and why you should love her in spite of them, as I do. 
Character: Vexen
Fandom: Kingdom Hearts
Reason for Being Hated: Annoying, not as pretty as the other Organization members, 'pedophile', creepy, pointless villain.
Wow, so most of this is personal opinion and/or completely wrong. Let's get to it. Spoilers ahead.
Fandoms….Can you please get your head outta your backside, and stop hating characters due to the stupidest reason of all: Shipping? I'll keep this as brief as I possibly can, so here I go. The reason why the hate on adult Natsumi is completely ludicrous, and doesn't even deserve the time of day, let alone the massive support it seems to have.
She married Endou, got in the way of other ships
These go together, so I'm responding to them all at the same time.

For God's sake, as you kidding me fandom? You're going to hate a character because their marriage got in the way of your ships? I'm going to say this once; SHIPPING IS A LUDICROUS REASON TO HATE CHARACTER. If you don't like this ship, that's all fine and stuff, but don't hate the freaking character, just because they married another character, whom, may I add, they CLEARLY showed Natsumi had a romantic attraction for in the original series. 

Her marriage to Endou wasn't random at all either;

We're talking about the very same woman who was completely changed by Endou, to the point where she started to actually love soccer. For her to go from a stuck up snob who wanted to disband the soccer club, to a woman who supported the team and Endou in all they did, was a very big turn. And the one who sparked it, was Endou. Plus, Natsumi was the one who found Endou's apparently dead grandfather, and united Endou with him. 

Endou has a LOT to thank Natsumi and Natsumi has a LOT to thank him for too. They both developed together, and Endou hugely developed HER. If you honestly thought Natsumi "snipped out of nowhere and became Endou's wife for no reason", then you seriously needed to pay better attention to the original series. Especially season one and three.

She was not just "a person who married Endou to get in the way of ships". It was a well built up, and well developed, relationship, one that obviously, between the main series and Go!, developed into romance. We don't see it because we don't need to see it. 

Also, I'd like to express something here;

This. show. is aimed at kids.

Ever thought that we didn't see loads of complex romantic, love triangle, shipping crap because kids wouldn't give two flying shits about it? We can love the show as teens and adults, but we can't forget that it's, at the end of the day, a kid's show.