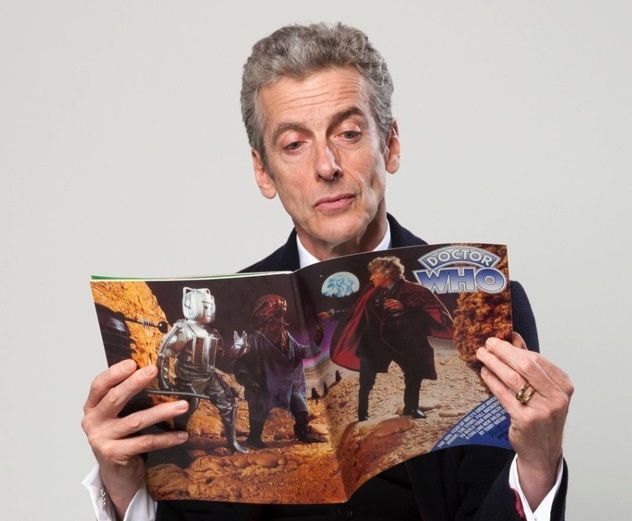 Well, Here we go again…
This has spoilers for Doctor Who season 8 up to Mummy on The Orient Express.
Let's just throw this one right out the window for being made of 100% pure ignorance. What I mean is this is obviously made by people who have only seen David Tennant, Matt Smith and maybe Christopher Eccleston, but that's being generous.
Some might say 'oh, well that's the older show, in the newer show we need hot young guys' for reasons that escape me right now. If it wasn't for William Hartnell, who just so happened to be the same age as Capaldi when playing The first Doctor, you wouldn't have your 'hot young looking kooky alien' to oggle at.
The Doctor is not a perfect super being.
This is something that have been bugging me since Into the Dalek aired. People seem to think that The Doctor has no flaws whatsoever. The 12th doctors story arc looks like it set around morality and difficult decisions so he might do something that may not seem 'good' but for the right reasons (or at least justifiable, to himself), the fans forget any other negative thing he done before and call it bad writing and Steven Moffat the bane of their existence. I think this part towards the end of Mummy on The Orient Express sums it up well
Clara: So you were pretending to be heartless.
The Doctor: Would you like to think that about me? Would that make it easier? I didn't know if I could save her. I couldn't save Quell, I couldn't save Moorhouse. There was a good chance she'd die too.
At which point, I would have just… moved on to the next and the next until I beat it. Sometimes, the only choices you have are bad ones. But you still have to choose.
And by the way, special is not the same as important.
I don't get this one. I'm guessing most of any answer I can give will be similar to the too old one.
Also, Watch Deep Breath and The Caretaker again. He's The Doctor, a grumpy, dick-ish one, but The Doctor nonetheless.
But what about his reaction to the T-Rex death? What about "Just see me"? What about him trying to convince A DALEK to stay good? What about his reaction to Robin Hood jumping with Clara? What about his 'Scared is a superpower' talk to Rupert Pink? What about him helping Orison Pink because he just so happened to bump into him? What about his reaction when he thinks Clara is being attacked by The Teller? What about his reaction to Psi and Saibra showing up alive? What about his reaction to Clara getting angry and leaving at the end of Kill The Moon? What about him trying to make it up to her with 'one last hurrah' at the beginning of Mummy on The Orient Express?
I bet those examples are very confusing to folk who have never watched Doctor Who before.
As a Scot myself only one thing comes to mind… Ach, away 'n didnae talk a load a pish.
But Capaldi's accent isn't even very thick…
Well a least none of this had to do with shipping.
Anonymous said: I just wanna say that you mis-tagged one post about Yukari Takeba... instead of Persona/Persona 3, you tagged it into Dangan Ronpa... (tho Yukari's seiyuu is also Junko's seiyuu)
Thanks! I just changed the tag.
Anonymous said: Virtually every single Dangan Ronpa character has been or is soon going to be on this blog. How can there be a fandom if all the characters are hated?
Anonymous said: (Sorry, this is about Xion) I agree that Xion wasn't the main plot of Days, but I would like to remind that she was part of the reason Roxas started questioning the Organization. Axel and the Org. were hiding things from Roxas which related to him & Xion, She also gave him more motivation to not only find Sora and the truth, but he also wants to 'set Kingdom Hearts free' so everything can return to normal with him, Xion and Axel. So whilst Days is Roxas' story, she's still pretty important in it