tigerbites-art asked: Not that I agree with it at all, but I find it interesting that Cho Chang gets hate from the fans for "not getting over the death of her boyfriend quickly" because in canon, her insensitive friends got annoyed with her for that exact reason, and she ended up rather isolated and depressed as a result.
I am here to defend Mikina Freesis! She had never any evil intentions. Burning Shaw's back was a FUCKING ACCIDENT! And she only worked with Prim and Irina because they tricked her by saying that her family would pay for her "making a deal" with The Demon of Greed. And as for being married to Keel, how the fuck can you hate her for that? It's not like she married Keel because he looked like Kiril and she wated to hurt Elluka, she married him because she loved him! She abandoned everything she owned for him!
Alright let's go. I absolutely love The Great Gatsby and I was a little surprised to see Daisy not getting any defense. So let's get into this.
Gets in the way of ships (Nick/Gatsby, Gatsby/Tom)
I can hardly even dignify this with a response. No one is stopping you from shipping your non-canon yaoi pairings and "GETTING IN THE WAY" OF A PAIRING IS NOT A VALID REASON FOR CHARACTER HATE SHIT YOU GUYS WHEN ARE WE GOING TO GET OVER THIS
tries to force Nick into a relationship with Jordan
She does not try to "force" him. She nudges him towards Jordan because she thinks they would be a good couple and it would make Nick happy! Many people have tried to set their friends up before, but she never pushes him when he resists; at no point did she put pressure on him to go out or do anything with Jordan. Nick spent time with Jordan completely of his own accord and they genuinely became friends—Nick liked her, until the end.
Is completely oblivious to her surroundings
Only she's not. Let's take a look at this beautiful little quote from Daisy speaking about what she thought when the doctor first told her her newborn was a girl: "And I hope she'll be a fool — that's the best thing a girl can be in this world, a beautiful little fool." This is one quote—in this very important conversation she has with Nick—that reveals how much Daisy sees. She understands that as a woman, she's extremely restricted. It's next to impossible for her to support herself without a husband, she's socially obliged to marry and bear children, she's not allowed a real education, she's certainly not going to be getting any kind of serious job anytime soon. Daisy isn't oblivious—Daisy MAKES herself oblivious to what's around her because she's so disgusted with it all. She starts that same conversation with Nick off with "I'm pretty cynical about everything these days".  Daisy has been living with a man who she KNOWS cheats on her all the time, whom she doesn't really love (at least not any more) and she sees no real future for herself but a continuation of what she's going through right now. Who WOULDN'T want to pretend to not see it all?
She only loves Tom because he's rich, she only cares about material things like shirts
If the "shirts" comment is referring to that scene where Gatsby tosses all his shirts around and Daisy starts crying, that's a dumb criticism. That scene wasn't about the shirts; it was symbolic. Her comment about what beautiful shirts they were wasn't the point—she wasn't crying over the shirts. She was crying because she was getting a look at what she saw could have been her life with Jay, a life that's forbidden to her now.
As for Tom, if you actually read to the end of the book or watched to the end of the movie, you'll recall that Gatsby begs her to tell Tom she never loved him. And she can't do it. Tom reminds her about their honeymoon and how he once carried her so she wouldn't get her shoes wet and she's fond of those memories. She did love Tom. She might not love him any more, but are you expecting a high profile woman in the 1920s to rush off and get a divorce? That's a ridiculous assumption; she's pretty much saddle with Tom for life, regardless of how she feels.
See the commentary on "she's oblivious to her surroundings". Daisy isn't stupid; she's trying to ignore the world around her.
Her character development consists of deciding which rich guy she wants to make out with
Nope, nope, nope. She's only ever disloyal to Tom with Gatsby. And she loved Gatsby before he was rich too, if you'll recall. And part of the point of the story is that Daisy and Tom have no character growth! They go through all the things that happened and they don't change at all. Their attitudes and behaviors remain the same, as Nick says "They were careless people, Tom and Daisy—they smashed up things and creatures and then retreated back into their money or their vast carelessness, or whatever it was that kept them together, and let other people clean up the mess they had made." That's the whole point of the novel—the hypocrisy of the Roaring Twenties and the ugliness of the Jazz Age—and the shallowness of it all.
She's completely self-absorbed
I wouldn't say this is true. She thinks a lot about others; she's glad to see Nick and happy when he and Jordan start getting along; she worries about her daughter and frets over Gatsby (whom it's implicated she's thought about before); she doesn't make a scene over Tom's adulterous behavior except once or twice. There's bound to be some absorption, simply because of the way she's grown up—as a child of wealth at this time, it's likely she was coddled and made out to be better than everyone who was poorer than her, and she's had very little exposure to the real world. She hasn't had much to worry about, besides the petty things of the upper class, so it's natural that she has some self-absorption issues, but it's not the complete extent of her character. Part of her withdrawing from the  reality of the world, I think, led to an increase in her self-absorption because it's easier for her to ignore and forget about people when she's distancing herself.
She's obsessed with money
Now this point is a little up for debate; I wouldn't say she's obsessed with money, but I'd say it is a factor in her life. But as a rich child, she was instructed to marry rich and expected to keep up the appearance of the Buchanan name. Appearance was a huge thing amongst the upper class and therefore it was important for her to look nice and keep a nice home and, to some degree, show off her and Tom's money. But it wasn't Daisy who broke up the relationship over Gatsby's financial situation—it was Gatsby himself. She never rejected him because he was poor; he felt he wasn't good enough for her yet. So while Daisy does have some of the focus on money that's practically expected of the upper class, she's not obsessed with it.
Anonymous asked: One of the reasons Cho Chang gets hate is "Not getting over her boyfriend's murder quickly"? Just....?????? What?? /What/?? I'm really confused by this, more so than the "gets in the way of ship" 'reason' I see so much. *squints at fandom*
Oh, Harry Potter fandom. Sometimes I love you, sometimes I wanna slap you (but it's because I love you).
Anonymous asked: I really hate when characters who cry get shit for being "over emotional." I mean it makes sense if they're crying all the freaking time over things that are no big deal, that can get annoying, I understand. But then there are characters who are dealing with some REALLY tough shit, and still if they break down every once in a while (even when it's completely warranted) they're "whiny" or "crybabies." Sometimes people just need to cry. It doesn't make them weak. It makes them human.
Especially when they're really young characters. Give them a break!
Alright, so I'll be upfront that Cho was never one of my favorite characters just because she didn't interest me that much, but the hate she gets from the fandom is totally unjustified, so here goes my defense.
See there are these fun things called "character flaws" and without them every character would be boring as hell. Personally I think Cho was a little emotional, but is that a crime? Every character in the series has flaws, this is one of Cho's! And let's also keep in mind that she's a teenage girl with her hormones all out of whack and a bunch of crazy, really scary stuff going on! She has every reason to be emotional, at least to some degree!

Of course she defended her friend! These two girls were close, enough that Cho felt she could trust her with the secret of Dumbledore's Army. She was probably hurt and ashamed when Marietta turned them into Umbridge, but she didn't want to turn on her friend with everyone else. Marietta herself was probably under a lot of pressure and felt awful about giving in and even if she didn't, we're going to slam Cho for trying to stick with her friend even though she did something wrong? She wouldn't have been friends with Marietta if she didn't see a lot of good traits in her, and she didn't want everyone to only think of her as the girl who betrayed Dumbledore's Army.
Was just a "pretty girl", no personality
To be honest, we don't really get to see enough of Cho to make this judgement. She really doesn't appear that much in the books aside from brief conversations with Harry and him catching glimpses of her in the halls and such. But that doesn't mean she has no personality; this sort of contradicts the first point—how can she be overemotional and also have no personality? We can note that (in the books), Cho never caves under Umbridge's pressure and from what we've seen she's proved herself to be a capable witch and a nice person.
Is there some new trend of hating women who feel? Her boyfriend was murdered by Voldemort. Doesn't that give her a reason to be upset? For crying out loud, if any of her criticizers had their boyfriend or girlfriend murdered by someone, I'd be willing to bet they would cry! And Cho is emotional, which we've already covered! It really hurt her and she was afraid for her own life and for her family and for the rest of the world—not only was Cedric killed, but Voldemort was on the rise and the Ministry was doing nothing! She had every right to be terrified and stressed out, which would make her more likely to cry about Cedric's death.
Not treating Harry right during dating
This is a matter of personal opinion; I agree their dates were awkward and didn't go very well. But returning to the above point, Cho was under an incredible amount of emotional stress. It probably wasn't right of her to go out with Harry in the state she was in, but she did like him and when she turned him down for Cedric before, she seemed genuinely regretful that she had to hurt him. Besides, she's fifteen! How many fifteen year olds have perfect dates? The whole point of dating as a teenager is to get used to the feel of things and try to figure out how relationships work. Cho could probably look back on that and agree it was wrong of her to have tried another relationship when she was still upset about Cedric. And let's not forget that this was also partly a plot device to push Harry away from Cho so that he'd end up with Ginny.
Not getting over her boyfriend's murder quickly
Are you serious? She's going to be slammed for mourning her boyfriend's death? Is this a joke? He DIED. He was FIFTEEN. You're going to criticize her for being upset? I would like to see anyone who throws this insult at Cho to try to go through what she did and bounce right back. It was a horrible, unforeseen, tragic event. We don't have an inside look at her and Cedric's relationship, but presumably they were close! I feel like people who level this accusation at her are irritated that she didn't get together with Harry right after Cedric's death.
In short—basically Cho is getting hate for being a human being. How dare she. How dare she not be made of stone and never feel anything. The nerve.
rik-ku asked: Another thing I find funny, female characters are called sluts/whores etc just for the fact they are a woman. I mean, look at Haruhi who is VERY modestly dressed and yet she was STILL called one. Even still, judging by what they wear is not right at all to call them that or even at all. But, if a male character shows to be very proactive and forward with women, he is barely called out for it, if at all. Ah, double standards! Aren't they wonderful?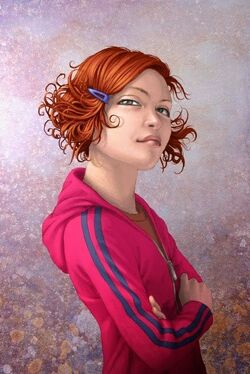 I was disappointed but sadly not surprised to see Rachel show up here. I was, however, dismayed to see that no one has defended her yet! So here I go.
Getting in the way of/disrupting Percabeth
The #1 reason people hate Rachel is because for about a book or two, she threatened the security of the main ship—Percabeth (Percy/Annabeth). It's important to remember that Percabeth wasn't canon until the last book of the series (and in the last few chapters too), but it was pretty obvious from the first book that Percy and Annabeth were going to end up together. I mean come on guys. Let's be real. Rachel was a side plot for the books' romance, but she was never a serious contender; Percy's been into Annabeth almost from day 1.
Now some people think Rachel is better with Percy than Annabeth is and that's fine! But for the plot of the book, it was always going to be Percabeth. Besides, are you really going to blame a fourteen year old girl for crushing on a good-looking guy who introduces her to a world of Greek gods and adventure? She's a kid, for crying out loud, give her a break.
[Spoilers] Is a "slut" for asking Percy to kiss her in The Last Olympian [/spoilers]
SERIOUSLY
SERIOUSLY NOW
How many times has it been pointed out on this website that men who chase after women are called romantic and passionate while women who chase after men are accused of being desperate whores? Aren't we in the 21st century, where women are allowed to ask out men and be upfront about what they want? Isn't tumblr constantly screaming about feminism and how genders should be equal? But now a spunky girl has the balls to ask her crush to kiss her and she gets called a slut? Are you serious?
You know how this would have worked if Percy had been the girl and Rachel the boy? Rachel would have grabbed Percy's shoulder or shirt or something and planted one right on him. There would have been no question, there would have been no asking permission—Rachel would have taken what she wanted. But she didn't. She asked. In a shocking turn of events, someone with a crush dared to seek permission before stealing a kiss. Percy wasn't with Annabeth at the time—he was single. He'd even expressed mild interest in Rachel, so she had every right to think she had a chance with him. So they shared one kiss—a KISS, mind you, a chaste, fifteen-year-old kiss—and now she's labelled a slut? That's so wildly unfair I can't even fathom the mindset it takes to come up with an argument like that.
Anonymous asked: You know what's funny about love triangles? When there's one girl and two guys. The the girl either bashed for getting in the way of the yaoi or they usually end in threesomes or wars. Though when it's two girls and one guy. They have all our shipping war with haterd on each one of the girls or end with a theesome, but never talk about the guy getting in the of the non existent Yuri, unlike the non existent Yaoi.
I can kind of understand where people are coming from with some of these arguments, but I still disagree with all of them.
SPOILERS AHEAD!
Weak, Crybaby
This is kind of ridiculous. All of the crying happened when he was like 4-6 years old. Cut the kid a break! What, you never cried as a child when you were sick or scared or your feelings were hurt?
Suddenly became angsty
When he was in his house or among humans, yes, he was a little "angsty." He was forced to behave like a human and live under their rules, and he hated that. It made him feel trapped. The human world was one he didn't feel he belonged in and didn't want to belong in. When he was running freely in his wolf form, however, he looked (and probably felt) like he was on top of the world. That was the life he wanted. So when he had to return to his boring human life with his two family members who didn't seem to be too happy with the fact that he was drifting away (understandably so), of course he wasn't happy.
Selfish
I'm assuming this was due to the fact that he ran away during the hurricane, leaving his mother to search for him. If you'll recall, though, his "teacher," the fox, had gotten very sick, and would need Ame to take his place when he died. Ame felt that if there was any time to leave the world of humans and be a wolf, it was right then and there. Yeah, that hurt his mother greatly, but sometimes you have to make choices even if they will hurt those you care about. Besides, he did come back and carry his mother to safety, didn't he? And when she said that she didn't want Ame to leave because she felt she "hadn't done enough for him," he made sure to howl back at her with pride and show her that she had helped him grow into a person who was completely unashamed of who he was.
Terrible character development
I thought he was developed pretty darn well. He starts out hating the fact that he's part wolf at all, but slowly starts embracing it. When he realizes how out of place he feels in school among humans, he drops out and begins to explore the wolf world. He starts to see more and more how exciting the wild is for him, and how boring and limiting the human world is. Eventually, he decides to leave the human world behind altogether and become a proud and confident wolf. I think his growth from hating that side of himself to accepting and embracing it as who he was was pretty well done.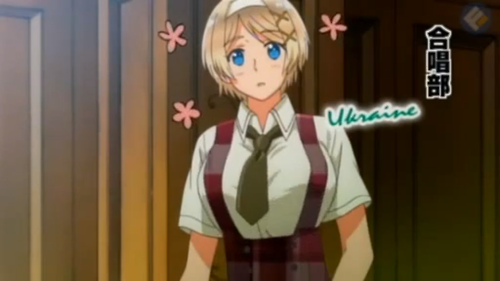 Character: Ukraine
Fandom: Axis Powers Hetalia
Reason for Being Hated: Her large bust (leading some to conclude that she's a "whore" or "slut"), her crybaby personality, how her and Belarus' song ("Carrot and Stick") makes Ukraine seem just as obsessed with marrying Russia as Belarus is often portrayed; being paired with so-and-so (i.e. Canada, Russia, Turkey, Bulgaria); getting in the way of so-and-so being paired with someone else. 
Yuki here, and it's time for my to defend my baby! As a beginning note, I'd like to say that Ukraine is my absolute favorite character out of all of Hetalia. I see so much of myself in her, even with her limited  time on screen and in the manga. It breaks my heart when I see people hating on her! Now it's time for me to prove why the reasons some people hate her are utter bull!
I'd… also like to say that this is my first ever defense of any character, so I hope it's alright.
Her large bust (leading some to conclude that she's a "whore" or "slut")
First off, one's body does NOT make them who they are, personality-wise. I should know. I've got DD's and yet I'm the most reserved person in my group of friends. Calling a character a "whore" or "slut" JUST for having large breasts is so idiotic that it really boggles my mind that anyone would even do it to begin with. Sure, Himaruya does pull a lot of jokes about her breasts [i.e. the button popping off her top multiple times], but that's purely for comedic effect. Nowhere does Himaruya EVER state that Ukraine sleeps with/has slept with ANYONE. The only ones that have canonically slept with ANYONE are France and Grandpa Rome… and maybe Greece.
Himaruya himself stated in his notes that Ukraine is a strong woman, meaning that she isn't always crying [though I find her endearing when she cries—she's just too cute!]. Ukraine is strong enough to protect herself, and she could stand up to anyone she needed to.
How her and Belarus' song ("Carrot and Stick") makes Ukraine seem just as obsessed with marrying Russia as Belarus is often portrayed
I'm not too familiar with this song, honestly. I've only heard it once or twice. But it's ridiculous to hate Ukraine just because of a stupid song. In the anime and manga, Ukraine is never shown to be obsessed with Russia. Himaruya never does anything that could even hint at that being true.
Being paired with so-and-so (i.e. Canada, Russia, Turkey, Bulgaria); getting in the way of so-and-so being paired with someone else.
First and foremost: NO, STOP THAT RIGHT NOW.
Who a character gets shipped with is NEVER a good reason to hate them! Ships are just opinions after all! Opinions! Everyone's got 'em, not everyone agrees with 'em! Get over it! And SO WHAT if she's paired with, well… let's say Canada for this example. That only affects the person who's shipping them, honestly. So what if you don't ship her with him? Ship and let ship. People's ships don't affect you [unless of course, said shipper is an asshole about ships], so why should you get pissed at the character for being shipped? The honest truth? You shouldn't. Characters have no control who they're paired with, canon or not. it's all a matter of opinion or, in some cases, plot devices. So stop hating characters for who they get paired with.
And thus concludes my first-ever defense. I just had to get my say out for my lady Ukraine. Thank you for your time.
      -Yuki out.
Mihari here again, tackling the accusations against a Hetalia character thats probably one of my favorites and most relatable. Most of these accusations, unfortunately, are ones often made by hetalia weeaboos (or "hetaboos") towards any given female who invades on the 'sacred gayness' of their self-made international yaoi festival. So here we go!
Big boobs, so thus she must be a slut according to those with amazingly flawed logic
First of all congratulations, you're so misogynistic you make me want to puke. Under no circumstance is a girl a slut when they have no control over how they develop. As a fellow big-breasted gal I can vouch for the fact that large breasts most certainly do NOT make you want to furiously bang any given man you see. Massive breasts =/= massive sex drive.
Second of all, It's been stated that Ukraines well-endowed body is a physical representation of how agricultural the actual country is (see the boob joke: "large tracts of land")
Not every woman on the earth is a sassy asskicking badass. Ukraine is an example that you don't have to be the aforementioned sassy action girl to be a good character. I'm pretty sure after being dragged into all sorts of messes, helping raise Russia and Belarus, and working hard every day she can afford to whine a little. Russia's said himself she has a big heart, but so what? That's a good trait to have! Sure it makes her a little emotional, but it's certainly better than being a stoic jerk.
I actually haven't heard this song yet, so I went and looked up the english lyrics and??? I don't see anything about marriage obsession, just Ukraine loving her little brother. I mean yeah, her ONE line of "Love is so sweet it hurts, I'll teach that very principle on your body." is pretty iffy, but it doesn't hold a candle to Belarus's violent love during the song.
Being shipped with _____, gets in the way of ______
Now normally I'd just like to state with this argument that anyone who thinks this is an entitled piece of shit and baby jesus hates them but I'd like to think I'm a better person than that, so:
Under no fucking circumstance is hating a character because people don't ship your ships. Who people ship a character with ultimately does not effect the canon of the anime or your own ships so thus it should not effect you. So for fucks sake if you see a ship you don't like just turn your head the other way and look at ships you actually do like.
Anonymous asked: Do you ever have an "Oh boy, here we go" moment whenever a female character is submitted because of the stupidly common "Mary Sue" "argument" for disliking them?
Not really. That reason is so common that I just skim over it now. I only get those moments when there's some type of -ism or it's an arguably popular character who's also a base breaker. 
http://www.tumblr.com/blog/anti-masque
Character: Mikasa Ackerman
Fandom: Attack on Titan (Shingeki no Kyojin)
Reasons for Being Hated (as noted by the submitter): One-Dimmensional, Mary Sue, cares about no one but Eren. Boring and gets in the way of Ereri.
Additional Info: A"Mary Sue", is too strong, gets in the way of various ships, too "bland", "emotionless", (or for some people) shows "too" much emotion, has an obsession with Eren, one-dimensional, has no character at all, useless/no point to the plot, outshines too many characters, clingy, the "badass" stereotypical character, has no flaws."

*Headdesk*
I wonder about some of you people sometimes, and your uncanny habits of reducing generally well-rounded characters down to, two or three quirks or archetypes. Maybe it's just lazy, stupid, human nature to take what surface level traits we see in others and categorize them based off of said traits without bothering to dig any deeper into their persona. I find this particularly evident in the reception of strong female characters such as Mikasa. Anyhow, its this sort of mindset that I plan on subverting, breaking down and/or turning it on its head, before pushing it down the stairs and laughing at it in this defense.
So let's crack on, shall we?
manamana6672 asked: QUESTION: Sorry if this has been asked before, but if someone has submitted a character and you think their reasoning as to why people hate them is incorrect (for instance, hate toward Merida is not based entirely around her redesign) can you submit your own version or anything like that?
You can send a message and I'll publish it or, if you submit a defense, you can put the new reasons in it.