Anonymous said: Have you done anything for Misa Misa from death note before?
mechanical-jewel said: Can I submit a villain who the bulk of the fandom hates when it's clear (both from the story itself as well as interviews with the writer/director/actors) that you're NOT supposed to hate him?
Sure, that's fine. As long as they're not hated because of actual villainous things they've done.
I honestly can't say I'm surprised that these two ended up here. They're extremely misunderstood. In fact, so is the show itself. It's all zany cartoon humor and the internet ended up taking it too seriously. Seems to be a curse with most Nicktoons in the past few years, which is pretty sad. Doesn't anyone just want to laugh at pure comedy without any deep subtext involved? That what I grew up on…
…But that's a defense for another time. Right now, let's talk about these two and why they're hated:
Annoying
Yeah. They're supposed to be. That's where the humor comes from. They're these two excitable kids with no ill will towards most people, but the way they do simple things ends up causing more trouble than they think. Think of them as a modern, miniature Laurel and Hardy. They don't mean to be annoying. Their methods just make them inadvertently annoying.
Obnoxious
That's the same as "annoying," so see the above.
Detached from reality
How is that a bad thing for a cartoon? It makes for more over-the-top fun. Even if they weren't cartoons, these two are just free spirits with huge imaginations and a love of comics. I don't see anything wrong with that.
No sense of empathy
Not true. They clearly empathize with each other on a regular basis. They even try to help everyone else when they can. Just because they don't get what people want from them doesn't mean they don't care. Part of the comedy comes from them having good intentions, but not the smarts to help out properly.
Pretty much the same character
Another thing that's intentional. These two are supposed to be the closest of friends, so they naturally share the same interests. However, it's worth pointing out that they don't always agree on the same thing, such as how to take care of the class pet or whether superheroes or super villains are the best, so they're not entirely the same. Plus, their designs are pretty different, too.
To sum up, these two don't deserve all the hate they get. Sure, they're annoying, but they're supposed to be for the sake of comedy. This isn't one of those shows that has a profound meaning or complex characters. Everything in it is far from complex. It's just pure escapism. That's was makes it fun, just like its titular duo.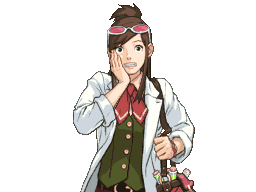 I haven't frequented this blog in awhile, and in going through the /tagged/ace-attorney, since that's one of my main interests, I was a bit shocked to see Ema of all characters in the mix. Oh, well, I suppose most female characters have this coming to them eventually, so, with a heavy heart I announce that the defense is ready, Your Honor.
So it seems that it has befallen upon me the Red Samurai Ranger. Allow me to begin…
Poorly written: In a nutshell, Jayden Shiba is a stoic young man who leads his team against otherworldly monsters known as Nighlok (I might be misspelling here). He is courageous, fierce, and had never surrendered, which is much more than can be said out of certain Red Rangers. This is a guy that cares for his team, his mentor, and his family, but is also dedicated 100% to his duty as a Samurai Ranger. This is the guy that stayed up all night to perfect his mastery of his weapons, who stood his ground against many, many monsters, and yet had it in his heart to have fun with his friends. This is a guy who values the people around him, who used his Samurai powers to create an illusion of a child's father in order to give him courage and hope. Does THAT sound badly written to you? Because to me, that sounds like an interesting character. Compare him to, say, Nick from Power Rangers Mystic Force, who was touted as being this great hero but was WRITTEN as a coward AND a jerk who, to be honest, never felt like he deserved to wear Red.
Anonymous said: I did it. The official FYeah! Controveial Characters Deviant Art Page is open. It's fyeahcontrvrslchar.
Anonymous said: To that nonnie: there was a fyeahoverratedcharacters blog (for taking widely loved characters and explaining why they are problematic), but it never really took off. Hasn't updated in months so I assume it's dead. Other than that, nothing I can think of.
Anonymous said: is there a parallel blog you know about that debates why characters should be hated rather than liked?
Not that I know of. Does anyone else know?