I'm here to defend the one and only Aomine Daiki! I really hated Aomine at first, but after reading the manga and analyzing exactly why he acts the way he does, he's become one of my absolute favorites. He gets a distressingly disproportionate amount of hate, so I think it's time someone officially defended him.
There are some spoilers, but I've clearly marked where they begin and end.
Now then, let us begin!
From 2011 til now some people are still bashing this 13 year old Yugioh Protagonist and the show itself and now with Zexal II almost ending in 2014, Let me clarify things with this updated defense for Yuma-kun containing Zexal II points…
Character: Eren Jaeger
Fandom: Attack on Titan
Reason for Being Hated: Designated protagonist, generic and one dimensional, doesn't know Mikasa loves him, doesn't evolve beyond the "escapist"/Audience Surrogate character, simply useless and the only reason anyone give a damn about him is the titan transformation (which he doesn't even know how to control), have some freaky dead eyes.
Alright, I couldn't sit by knowing how few defenses this guy got. Buckle up, this is a long one.
Now that Kyoryuger has finished, I decided to look back on KyoryuViolet, I felt she was an interesting character, to the point that she is now my favorite character in the show, I feel she was underutilized cause Sakamoto gave them the idea to become KyoryuViolet and Riku Sanjo had to rewrite episodes to include her, but I still enjoyed her character none the less.
 I know there are probably at least a few people that don't care for her, and I know I won't change peoples minds about it, but her are my thoughts on this:
 Obsessed with Daigo,
I saw it as just a little crush, cause she saw him as an inspiration on being brave, and now look at her now, she's part of the Kyoryuger team.
acts creepy towards him and gets jealous of Meeko,
Yayoi is 15 or 16 years old right?  At that age isn't it normal for a girl that age to get jealous quickly? You know "Puppy dog love" and all?
not as "awesome" as Amy,Not as "awesome" as Dr. Ulshade, 
I feel she's just as awesome as both Amy and Dr. Ulshades, 
Too girly,
 Gee, it's not like she's a girl or anything? in all seriousness, I felt she is no just as girly as Amy.
Actress is "too young",
 Do I have to remind everyone of Kou from Dairanger? Also, Hirose Satomi was 13 years old when she portrayed Tsuruhime/Ninjawhite on KakuRanger in 1994 and Natsui Runa was 14 years old during her time as Shiba Kaoru/ShinkenRed on Shinkenger in 2009.
Did not have to fight a dinosaur like the others did,
 Plezuon saved her from being crushed in the lab and later she jump head first into a Plesiosaur mech with no guarantee she would live to save Plezuon. 
some people wanted the show to stick to just one female Kyoryuger.
Remember the huge uproar when Oomori revealed why there was no Kyoryu Yellow, Remember everyone hoping that  Yayoi becoming KyoryuViolet was going to happen even before it was even rumored to happen and even before a magazine scan confirmed it. yeah.
Character: The Minions
Fandom: Despicable Me
Reasons for being hated: Annoying, the movies rely on them too much to be funny, outshine the other characters, getting their own movie, rip-offs of the Rabbids, exploited too much, have no purpose other than to make kids laugh
Annoying: OH FUCK NO! They are funny and adorable!
Movies rely on them to be funny: And admit it, they always deliver and remember: THEY ARE COMIC RELIEF CHARACTERS.
Outshine the other characters: Ok a little but everyone still remembers Gru and the kids and Lucy!
Getting their own movie: THEY ARE?? YAY!!! Anyway no one complained about Puss in Boots! (As far as I know anyway…)
Rip offs of the rabbids: The rabidds only scream. The minions have their own cute language! (I love the rabbids though!)
Exploited too much: Yeah they are but that has nothing to do with the characters. Not their fault!!
Have no purpose other than make kids laugh: Making kids laugh? In a kids movie? FOR SHAME!! But really they are the comic relief characters and created by Gru so don't expect major depth to them, ok?
missmystery302 asked: Has Martha Jones from Doctor Who been on here?
A WILD DEFENSE IS HERE! - A QUICK DEFENSE OF THE ELECTRIC TYPE POKEMON
OBVIOUSLY RIPPING OFF PIKACHU'S OVERUSED DESIGN.
Then why don't we say all the female Vocaloids are a rip off of Hatsune Miku why don't we? And couldn't we enjoy having a bit more electric types to have? Not all have to be completely new, sometimes its nice to have some cute looking electric rodents!
ONLY MADE FOR SHEER CUTENESS/ OVERRATED AND WEAK POKEMON
Nope sorry people, you can only have certain Pokemon all because of stats and appearance. Not like Pachirisu has some decent speed, Plusle and Minum could be used in Double/Triple battles to be support, and Dedenne being part Fairy and getting some goodies from that (Fairy types being good people, HINT HINT.). We can't use them all because a competitive fanboy tells us it's a no-no! We can't enjoy a game no more! 
first of all, I haven't noticed any hate for him and I'm very surprised to see him here but here goes
Designated protagonist
not a reason to hate him, but yeah he kinda falls under this trope, not that it's bad, moving on.
generic and one dimensional
Eren is by no means one dimensional, he's just straightforward. He watched his mother die in a horrific way, He killed 2 men when he was nine because he thought they where bad and to him that's a just reason. He sees the world in black and white, good and evil, with no gray area what so ever *spoiler*he even looked at Reiner and Bertholdt differently when he found out who they were*spoler* He is very human and most of the time reacts like most humans would if they'd been in the same situations as him and had they same black and white view of the world.
doesn't know Mikasa loves him
ok first of all, Mikasa doesn't love him in any other way than as a brother, She feels like she owes him after he saved her, she promised her "mother" to protect him and he's her only living family she has left.
Now, Eren is 15 years old, his mind is set on killing all titans, finding out what's in his basement and protecting those he cares about. Even if Mikasa loves him he has multiple reasons not to notice it. 
doesn't evolve beyond the "escapist"/Audience Surrogate character
ok ok ok ok, how is that a reason to hate him, we're supposed to see the world from his pov, he's the protagonist. Eren does have his own views and despite not often openly stating them, he does when he can like in the most recent chapter.
simply useless and the only reason anyone give a damn about him is the titan transformation (which he doesn't even know how to control)
Eren was still one of the top 10, which means we don't know just ow good he can be and if he didn't have his titan transformation we might have seen it. Also, he helped in humanities first victory, wouldn't call that useless.
He has been able to shift into a titan for weeks/months now, he has had no practice, he doesn't know how it works, so unlike Annie and the others, he has absolutely no idea what he's supposed to do.
has some freaky dead eyes
He watched. his. mother. be. eaten. He watched her under his home, he thought he could save her, he had to be taken away because a titan was coming and he knew exactly what was going to happen to her, and then he watched it, all while he felt like he should have saved her. don't blame him for having dead eyes, he stared utter hopelessness in the face.
in conclusion, Eren "Titanbooty" Jaeger is a boss and there's no reason to hate him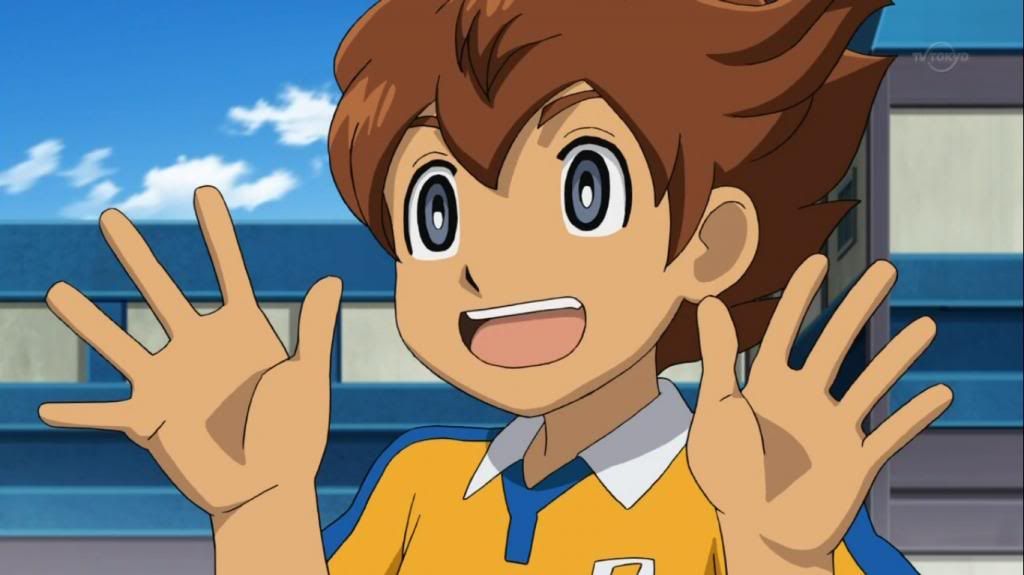 By http://terumi-kantoku.tumblr.com/
Well, as a fan of Inazuma Eleven series, I couldn´t let this just go in my dashboard. Tenma isn´t my favorite character, but I do think he is a good one. Forgive me for some grammar mistakes, since it´s not my native language. Here we go:
Jarring, more annoying than Endou
How so? Just because he is a thirteen year old boy, excited about finally doing a thing he always wanted to do and a junior high freshman eager to fix things up and play with new friends? Because of his persistence? I don´t really think these are qualified as annoying.
Not all teens are depressive and angry. Some are happy with their lives. Not to mention that it´s perfectly normal for a young teen to be clueless. Tenma is happy with his life, with his progress, with his friends, etc. This is pretty natural. And he isn´t that cheery all the time. I don´t remember seeing him happy when Mannouzuka and Tengawara started to beat up his team mates, when he found out who Ishido Shuuji was really and when Shindou did a emergency surgery.
This is not bad at all. As a children anime protagonist, naturally he is cute. And there´s several cute characters in all Inazuma Eleven seasons, since the producers know the girls will be interested like this, too. You don´t put Hokuto no Ken style for children (A bit extreme example, I know.)
Thinks everything will work out
It´s a good thing being optimistic. Also it´s pretty normal for children and teenagers to believe more in good things.
Treats soccer as a person
Indeed, he say confusing things about soccer sometimes, but you got to think a bit… See "soccer" as some kind of spiritual being or force. In Inazuma Eleven, soccer is also a force that can unite people and create wonderful bonds, not only a mere sport. And when you "make soccer cry", you are creating bad vibes, like discord and violence. You got to remember, super dimensional soccer is not like regular soccer, anyways… Tenma believes so much in all this. That´s why he says things that might look nonsense at first glance. But actually these make sense.
Not a better captain than Shindou
Just like Kirino said once, everyone was a beginner at some point. So is Tenma when he becomes captain just at the final match. It was harsh? It was. But he didn´t give up. Nowadays, we´re on Go´s third season and he improved A LOT as a captain. It´s important to notice his and Shindou´s ways to be a leader. The pianist obviously wasn´t a captain at first, too. Both characters are always improving as they can, in their own ways.
Forced his teammates to use their keshins to beat Dragonlink
Could you think about another way to win in that situation? I guess not. All the Dragonlink members had Keshin, while just four of Raimon members had it at the moment, since Shindou couldn´t play. The others who hadn´t made a brutal effort to keep up with the ones who had and support them. These four Keshin plus the teamwork of all members made everything possible.
Cries a lot during major events
Oh, come on. Who doesn´t? Everyone cried in some major events, like births, weddings, deaths, etc. We cry for the most simple reasons.
Anonymous asked: I find it hilarious that someone submitted Homura Akemi from Madoka Magica several months ago. She wasn't really all that controversial, but with the release of the Rebellion Story movie she has become significantly more controversial.
This blog's kind of psychic. It has a fifth sense. It's like it has ESPN or something.
Anonymous asked: On your Submit/Defend a character rules you state that you won't include "villains", as they're supposed to be hated. I'm just wondering why RWBY's Cardin Winchester was accepted? His entire creation was to show how people general feel about the Faunus and to be an antagonist for Jaune's miniarc.
I thought the point of his character was to be the jerk that eventually gets redeemed. But I'm not in that fandom and so my judgment isn't always right on characters in fandoms that I'm not a part of/haven't been a part of.